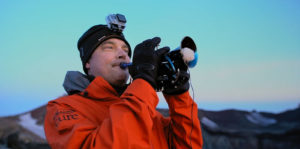 Chris Haigh makes his debut as a writer, director, and producer with Song For Hope: The Ryan Anthony Story. Haigh, a music teacher, met the subject of the documentary, trumpet virtuoso Ryan Anthony, in 2015 when they played a piece together. From there, Haigh became impressed by Anthony's temperament during his battle with cancer and decided to chronicle his journey three months into a 12-month prognosis.
Anthony would not only live longer than that one year, but he, along with his wife, Niki Anthony, would put on a benefit concert: Cancer Blows. It saw several beloved and famous musicians/composers/friends come together to play and raise money for cancer research. It was such a success that another one was held two years later, put on by The Ryan Anthony Foundation.
Song For Hope starts with a bit of backstory on Ryan Anthony and how he was a trumpet-playing prodigy. Then through interviews with family members, friends, fellow musicians, and Anthony himself, there's nary a facet of the man's life at least not glimpsed. And through it all, Anthony remains in good spirits and keeps his sense of humor, which instantly endears him to the audience.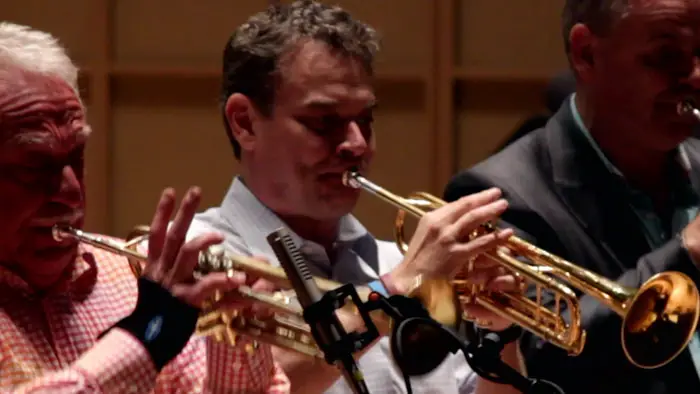 "…put on a benefit concert: Cancer Blows."
That isn't to say or imply there is no heartbreak present; the film is dealing with cancer after all. The biggest emotional pull comes during interviews with Anthony's daughter. She recounts several challenging moments and how difficult it has been having this upend her life. Interestingly, she thought Cancer Blows was a bit absurd at first, believing it to be nothing more than an excuse for her parents to party. But she comes around on this.
Song For Hope is an even 80 minutes long, but the director structures the story in a way that it never feels its runtime. Just when one begins to think, "Hey, I'd like to know more about this," or "It has been a while since that was mentioned," this or that is again focused on. As such, the movie never feels bogged down in exposition, which is interesting as it is a rather basic talking heads documentary from a technical standpoint.
However, Haigh and his crew overcome such issues by deeply exploring how and why art (in this case, music) matters, especially in times of tragic adversity. This angle gives the narrative a timelessness that allows someone a hundred years from now to watch the film and still relate. Hearing Anthony play inspires others to be musicians, who then band together to try and help their hero in a time of need. It's wonderful to witness humanity be as great and sincere as it can be. Of course, there's more to it than that, but no spoilers here.
Song For Hope: The Ryan Anthony Story is standard as far as documentary styles are considered. But, first-time filmmaker Chris Haigh overcomes a lack of finesse thanks to a fascinating man at the center of everything, excellent interviews, and great pacing. On top of that, by exploring how art helps and heals those in need, the movie becomes timeless and necessary.
"…a timelessness that allows someone a hundred years from now to watch the film and still relate."