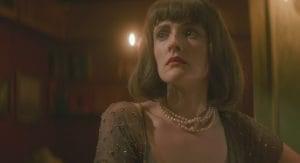 After reviewing films for several years, I have come across quite a few films that feel uninspired or like a rip off of some other concept that has been done countless times before, and usually better. But every once in a while, I will come across a film that feels original and refreshing. Lonely In The Dusk is one of those original and refreshing films.
Taking place in the 1950s, the short film centers a deaf-mute woman that seeks freedom from sexual prejudice and a horrible mistake made in her past.
Lonely In The Dusk is a noir-style story that explores the idea of homosexuality during the 1950s. That concept itself makes it instantly interesting because it is an idea that has not been explored much. Then you throw a homicide on top of that, and you have the potential for a great story.
"After a night of lust with Linda, Elizabeth commits an accidental murder…"
Elizabeth (Wolfe) is a deaf-mute woman who has an interest in another woman (Nesterova). The two have to hide their relationship for a couple of reasons. One: homosexuality is not accepted during that time period. Two: the object of Elizabeth's affection is in a relationship with a man.
Elizabeth's past is a very dark and harsh one and is one of the driving factors of the film. After a night of lust with Linda (Morilla), Elizabeth commits an accidental murder while defending herself. Word gets out quick – actually super quick (the very next day) – that Linda is missing. The detectives are on Elizabeth's tail, thinking that she may have had something to do with the woman's disappearance. Also, at one point in Elizabeth's life, she was in an asylum and had electric shock therapy due to her homosexuality.
The short is done in a narrative from Elizabeth's diary, read by her lover (Nesterova). This is where my one gripe with the film is. The narration throughout the short is robotic-like and lacking in emotion. The passion filled words are hidden behind a mono-toned voice. But where the narration lacks in emotion is made up for in the story itself. The story is filled with emotion shown through acting and deep imagery. In all honesty, I could watch this without any dialogue because that's how powerful some of the scenes are.
I have yet to see a film like this. It almost felt like a long trailer for something much bigger.  Regardless of my dislike of the narration, the setting and noir-style worked very well for a story like this, and I would love to see it explored further as a feature film or as a series of some kind. I feel that the characters in the film have more story to them that was not depicted on screen.
Lonely in the Dusk (2019) Directed by Jacky Song. Written by Jacky Song, Lauren Delisle. Starring Mashka Wolfe, Ksenia Nesterova, Marta Morilla, Jared Fleming. Lonely in the Dusk screened at the 2019 Dances With Films.
7 out of 10