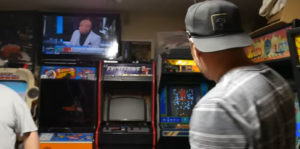 In 2007, we learned of the epic duel between Steve Wiebe and Billy Mitchell in King of Kong. I reference this film for two reasons, gentle reader. First, it contextualizes what we're about to discuss in today's film review. Second, King of Kong introduced humanity to the idea there are people who become champions of these games living amongst us. It's not just the screen-addicted kids in Seoul who litter cyber cafes rocking the video game. Sometimes, middle-aged men pull it off as well. With that framework established, Arcade Gamer: The True Story introduces us to Jordan Dorrington, his wife Naomi, and his best friend Mat. Jordan Dorrington, an Iowa City, IA resident, is Galaga's champion scorer. As far as Galaga is concerned, Jordan is the reigning champion of that particular video game.
Jordan is on a new quest in Arcade Gamer: The True Story. He is looking to challenge the record of Donkey Kong, which has vacillated between Mitchell and Wiebe. A contest in Arkansas is the perfect opportunity to see if Jordan has what it takes to beat the top score in Donkey Kong. However, as the film elaborates, first, Mat and Jordan have to arrive in Arkansas. Arriving in Sherwood, Arkansas, Jordan must now attempt the near impossible. While Arcade Gamer seems to avoid mentioning Steve Wiebe or anyone else who was a supreme high scorer on Donkey Kong, were Jordan to pursue the high score on Donkey Kong, he would need to rack up at least 1,100,000 points in order to achieve that rarefied space. Just putting that out there, dear reader, because I think this is a fun film, even if it is attempting a tunnel vision approach to consider Mr. Dorrington's mission to achieve the high score in a game Titans have been playing a lot longer than him.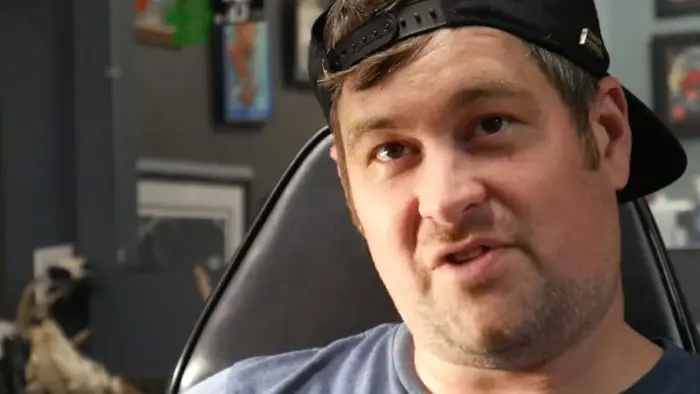 "…Jordan is on a new quest…to challenge the record of Donkey Kong…"
Apart from that detail, Arcade Gamer: The True Story is a delightful feature-length film. Jordan and Mat are great personalities. I was engrossed with Matt's descriptions of the many simple and straightforward ways to repair upright video game machines. Sometimes, all you need to do is flip a switch. Other times, it just needs a new chip installed. Mat's story concerning the acquisition of a stand-up Donkey Kong Jr. was pretty great, especially as it was a multi-year saga to finally wait until the original pizza shop owner's daughter decided to sell him the machine for 200 bucks. That story alone was worth the price of admission.
Further, I enjoyed the fact they visited several arcades on this trip. There was Jordan's home arcade in Iowa City, the Quarter Barrel. Then, we visit an arcade in Sherwood, AK. Eventually, we came to a well-curated arcade in Ottumwa. At each of these places, Mat and Jordan set out to dazzle us with their knowledge of video games and how they have perfected their game strategies and techniques over the course of time.
Arcade Gamer: The True Story is a fine film concerning one man's obsession. Seek it out if you enjoy movies concerning the men who play video games. It will be worth your while as it is a rollicking good time.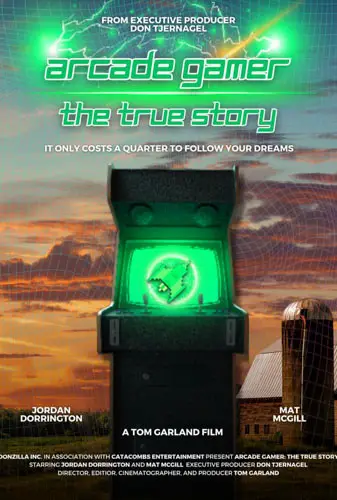 "…a rollicking good time."