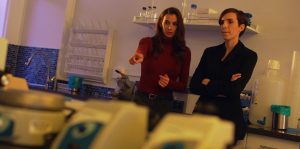 Suppose you were to take any one of the iterations of Invasion of the Body Snatchers, infused it with a spoonful of 1970s New Age mumbo jumbo, and dressed it up in some mid-1990s cyberpunk along the lines of Hackers or Johnny Mnemonic. In that case, you might come up with something like Agent Revelation. Visually engaging, capably acted, and flagrantly loopy, this ambitious feature won't give The Matrix franchise any reason to worry. Still, it will certainly scratch the itch if you're itching for some stylish techno-tainment.
A mysterious red, dust-like substance known as Ash is infecting all of humanity. The source may be alien, but no one knows how to stop it from decimating the species. When confronted with an explosion of Ash while out in the desert with a group of friends, young CIA-reject Jim (Derek Ting) somehow resists infection while the rest of his friends don't appear to be so lucky. Why doesn't Ash affect Jim? Does he have some superhuman powers?
That's what Dr. Jansen (Carole Weyers) intends to find out as she puts Jim through a battery of tests to try and determine why he is immune to Ash. Dr. Jansen is a scientist at one of those top-secret military bases you only find in the middle of the desert, a la Area 51 (this specific installation is number 53, which makes one wonder where in the United States deserts the other 52 are). Also at the base are Jim's girlfriend, medical resident Angela (Marikah Cunningham), an Ash-affected captive named John (Terrance Christopher Jones), Aaron (Matthew R. Burnett), who serves the same function as Q in the Bond series, IT person Billy (Kayla Ewell), and Higgins (Teo Briones), a young boy who lost his parents to Ash.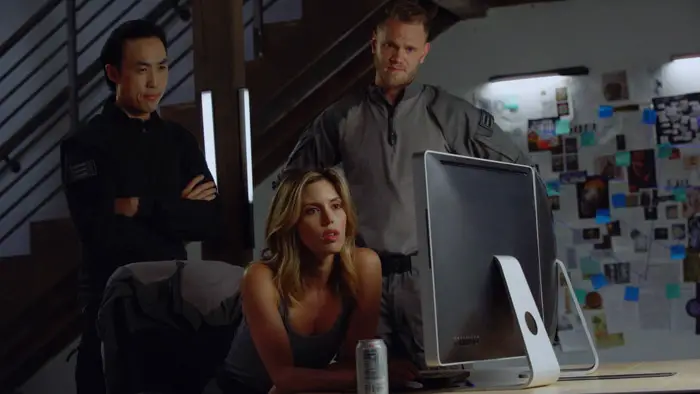 "…Ash is infecting all of humanity…but no one knows how to stop it from decimating the species."
The benefactor of this base is the enigmatic Alastair (Michael Dorn), a sort of High Lama to the facility who has hidden motives for starting the base in the first place but who nevertheless senses something extraordinary in Jim. Alastair takes Jim under his wing, resembling Mr. Miyagi to Jim's Daniel-son, most explicitly in a training montage that includes some Tai Chi posturing. Will Jim turn out to be, essentially, the savior of the human race?
Derek Ting has bitten off a lot in crafting the lofty tale that is Agent Revelation. In addition to starring in the lead role, Ting serves as writer and director. The imagination alone that is required to come up with the story is a feat unto itself. As the director, he impresses with some dazzling effects, such as the blue energy fields that mimic bars on a jail cell or the combat training sequence that evokes a video game better than most video game-to-movie adaptations. While the narrative sometimes has trouble keeping all of the dots connected, the movie never disappoints from a purely visual standpoint.
Since Ting is working from his own screenplay and, ostensibly, has a better handle on his character's motivations than anyone, he brings confidence yet little else to Jim. The other actors rounding out the movie's universe are much more interesting to watch. Jim is mopey and lackluster, and the film might have fared better with a more charismatic leading man.
Even still, Agent Revelation is a fun techno ride that doesn't make a lick of sense, although it desperately wants to. It is great to look at and proves to be a fun hour and a half.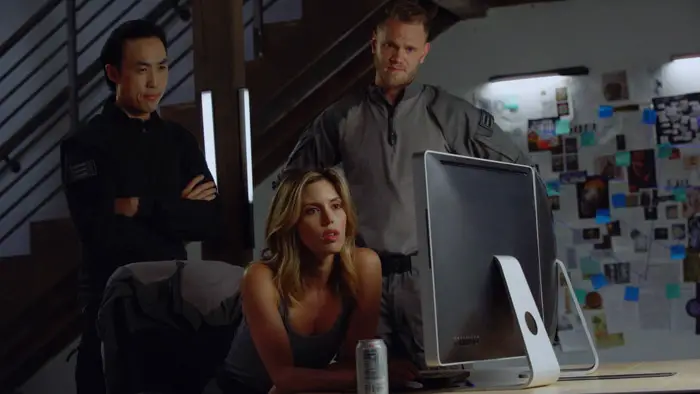 "…stylish techno-tainment."